Microphone Boom Arms
Microphone Boom Arms
Microphone Boom Arms
4 products
Introducing our selection of premium Boom Arms, the perfect solution to elevate your audio recording and streaming setup. Crafted with precision and designed for a diverse range of individuals and professionals such as: gamers, podcasters, musicians, broadcasters, content creators and many more!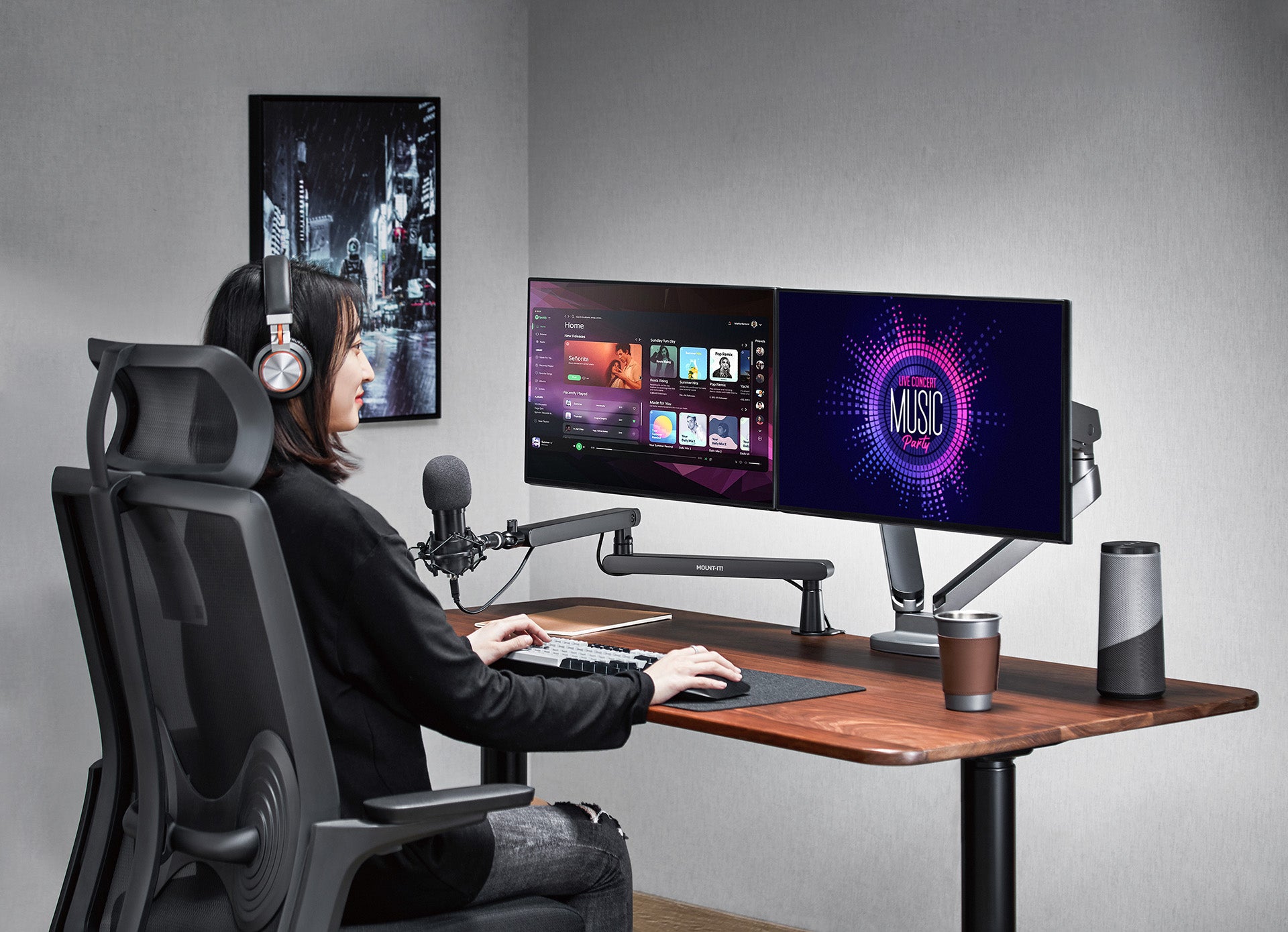 Boom Arms offer exceptional versatility, durability, and ease of use. Say hello to improved sound quality and a more organized and professional workspace by choosing one of our Boom Arms today and take your audio recording or streaming to the next level. Mount-It's Microphone Boom Arms and Stands will help you up your audio game! Find audio solutions to improve your streaming or recording configuration. Shop Now!
Benefits Of Using A Mic Arm
Using a microphone arm, also known as a microphone boom arm or mic stand, offers a range of benefits for content creators, podcasters, musicians, streamers, and anyone involved in audio recording. Mic Arms are a valuable accessory for those who rely on high-quality audio recording and want a more organized and efficient workspace. Whether you're a professional or a hobbyist, using a mic arm can significantly enhance the quality of your content and make your recording or streaming setup more user-friendly.
Best Microphone Boom Arm
Introducing our top three microphone boom arms designed to elevate your audio recording and streaming experience. First up, we have the Adjustable Microphone Boom Arm. This versatile arm is perfect for creators starting their podcast, music, and content creation journey. Its smooth built-in spring-based balance system provides nearly 360° of movement within a compact scissor-designed suspension arm, ensuring your microphone stays steady and free from unwanted noise. This boom arm is your ideal companion for voice-overs, ASMR videos, vlogs, and more, as it clamps securely to any desk corner, ensuring your setup is as professional as your content.
Next, we present the Premium Microphone Boom Arm, a pinnacle of design and quality. Crafted with precision, this arm offers seamless microphone adjustments and positioning, all in a low-profile design. It fits perfectly beneath your monitor, saving space and making your setup look sleek. With a universal adapter fitting 3/8" and 5/8" threading, this boom arm is compatible with a wide range of microphones, making it a premium choice for content creators and professionals alike.
Finally, meet the Full Motion Microphone Boom Arm, your ultimate companion for online streaming and voice capture. Its friction control feature securely supports microphones weighing up to 2.2 lbs, preventing unexpected collapses while you're live. The clever cable management system conceals wires, keeping your setup tidy and camera-ready. With full motion adjustability, this boom arm allows you to position your microphone precisely where you need it, ensuring your voice shines flawlessly.
Installation for Mount-It! Boom Mic Stand
The Installation system of our Mount-It! Microphone boom arms are very simple. No special tools are usually required for installation as a microphone boom arm typically involves clamping it to your desk or table. If you are considering doing a Grommet Installation then all you need is a philips screw.
Microphone Arm
When it comes to enhancing their audio recording and broadcasting abilities, content creators, podcasters, musicians, and streamers find that microphone arms—also referred to as microphone boom arms or mic stands—are essential tools. These adaptable gadgets provide better sound quality by minimizing handling noise, lowering unwanted vibrations, and enabling precise microphone placement. Mic arms also improve workspace efficiency by offering ergonomic adjustments and preserving valuable desk space. Their sophisticated, well-made design gives any setup a polished appearance, and integrated cable management systems keep your recording area free of clutter. Mic arms are necessary accessories that maximize sound quality and workspace aesthetics, whether you're going for a home office look or a professional studio vibe.