Projector Mounts & Stands
Projector Mounts & Stands
Projector Mounts & Stands
13 products
Optimize Viewing Angles: Shop Adjustable Projector Mounts & Stands
Looking for a better viewing experience? Mount your projector to the ceiling or place it on a stand and have your meeting room or home entertainment room up and running quickly. Ideal for home theaters, offices, and schools. And if you're looking for a great surround sound effect, speaker mounts and stands can help you position them perfectly.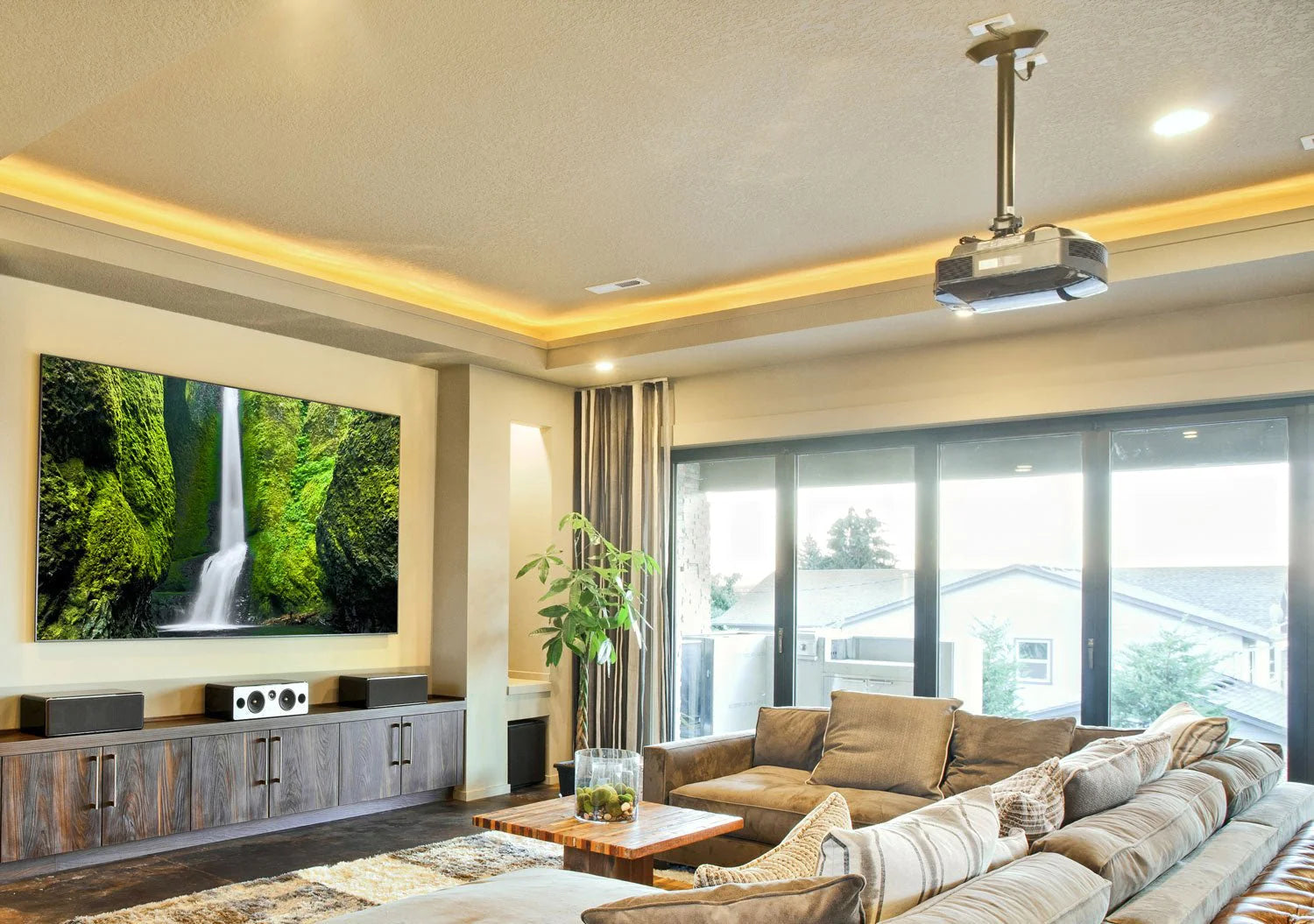 Improve Presentation Efficiency: Explore Projector Stands Now
A projector stand can significantly improve presentation efficiency through its various benefits and functionalities. Firstly, a portable and adjustable projector stand enables you to quickly set up your presentation in different locations, eliminating the need for time-consuming adjustments or searching for suitable surfaces. The stand's adjustable height and angle options ensure that the projected image is optimally positioned and focused, enhancing visibility for all audience members. Cable management features help keep cords organized and prevent any disruptions caused by tangled cables. Moreover, a projector with stand allows you to maintain eye contact with the audience while navigating through your content, fostering better engagement and connection. With the flexibility and convenience offered by a projector stand, you can enhance your overall presentation quality, minimize technical hiccups, and deliver a seamless and impactful presentation.
Versatile Solutions: Choose from our Projector Stands Catalog
Our product offering is as versatile as the demands of our clients. Explore our projector stands and projector mounts to find the perfect solution for your application. Choose from tripod projector stands or mobile stands for both your projector and your laptop to elevate your streaming or presentation experience. For more permanent solutions, check out our projector ceiling mounts - the perfect companions for conference rooms, home theaters and more.
Durability and Style Combined: Projector Stands for Modern Setups
Project your favorite movie or the next championship game on any white wall in any room with our sleek and slim Dual Use Projector Stand. You can even take it to the bathroom or the patio - the choice of location is yours. This versatile projector stand comes with a platform to hold your mini projector. Alternatively, the projector can be mounted directly onto the stand using the 1/4 inch screw adapter. Explore a new way of entertaining friends and family in your home!
Easy Setup and Mobility: Discover Portable Projector Stands
Need the flexibility of taking your projector to different locations? A tripod projector stand and a portable screen might be just what your need. This type of audio/video equipment is easy to set up and dismantle and offers a mobile solution for professional and personal use. Our portable projector stands works with all your equipment including laptops, projectors, tablets, DJ equipment, and more.