Monitor Wall Mounts
Monitor Wall Mounts
Monitor Wall Mounts
0 products
Are your neck or shoulders constantly hurting after being on your computer for hours? Beyond your posture, your discomfort may be caused by a poor monitor setup. We recommend an upgrade to your monitor's positioning to remedy this problem. While a monitor desk mount is practical for some people, others may be more limited on desk space. To save space, we recommend a monitor wall mount. A new wall mount will allow you the freedom of choice in how your monitor is angled and displayed while freeing up space on your table. Available as single and dual monitor arm options.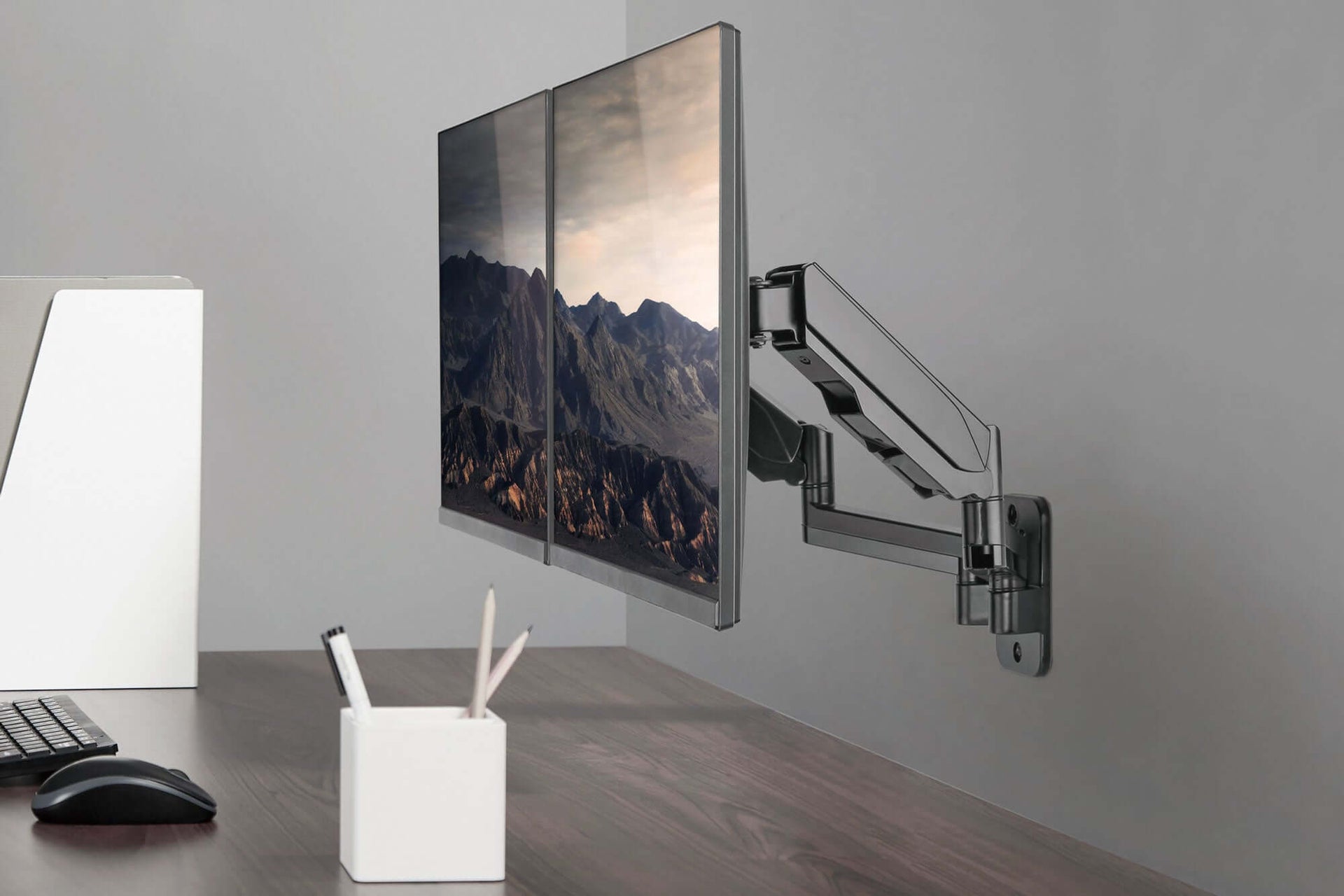 Sorry, there are no products in this collection.
Dual Arm Monitor Wall Mount
Working with 2 screens can be much more productive than constantly switching between different apps on a single screen. With a dual monitor setup, you can work on your current task on the main screen while using the second screen for email, internet research, or messaging apps. If your desk doesn't have enough room for a dual monitor desk mount, try one of our dual arm wall mounts. They save valuable desk space while still giving you all the options you need to place your screens in an optimal viewing position, so you can work more ergonomically and increase your productivity.
Full Motion Monitor Wall Mount
A full motion monitor wall mount offers you all the flexibility and adjustability you are looking for in a single or dual monitor arm. These wall mounts with gas spring technology allow you to swivel, tilt and rotate your screens as well as effortlessly adjusting the height to achieve your ideal monitor position. A monitor wall mount is your ideal workstation accessory anywhere where desk space is limited and can be used in offices, game rooms, treatment rooms to just name a few environments that can benefit from a wall mount solution.
Full Motion Dual Monitor Wall Mount
Increase your productivity and improve posture and ergonomics while working with a dual screen set-up with a full motion monitor wall mount for two screens. A full motion arm allows you to set height and angle of your screens to your preferred position as well as align them properly for an ideal ergonomic workstation. Our wall mounted solutions are a great option for anyone who has limited desk space at home, in the office or in another professional work environment. Mounting your monitor arm to the wall frees up all that desk space you might need for paperwork, arts & crafts or your gaming equipment. We offer a full motion dual monitor wall mount that can carry those heavy gaming monitors without fear of falling. And just as all our products, the dual monitor wall mounts offer easy installation and are user friendly.
How To Wall Mount a Monitor
Whether you plan on mounting your computer monitor to the wall or use a desk mount or monitor stand, the first step is to check the back of your monitor to make sure it has four evenly spaced mounting holes that match the certified VESA standard. On computer screens the VESA standard is usually 75 x 75 or 100 x 100 which is matched by our Mount-It! monitor mounts. To mount your VESA compliant monitor to the wall you will need a monitor wall mount solution. Check the Mount-It! catalog for a mount that fits your needs. All our solutions from single to dual monitor wall mounts with different levels or adjustability are easy to install and come with user friendly installation manuals. Installation videos are available as well and if you need further assistance choosing the right solution, our knowledgeable customer service team is here to help.