How To Arrange A Small Office Room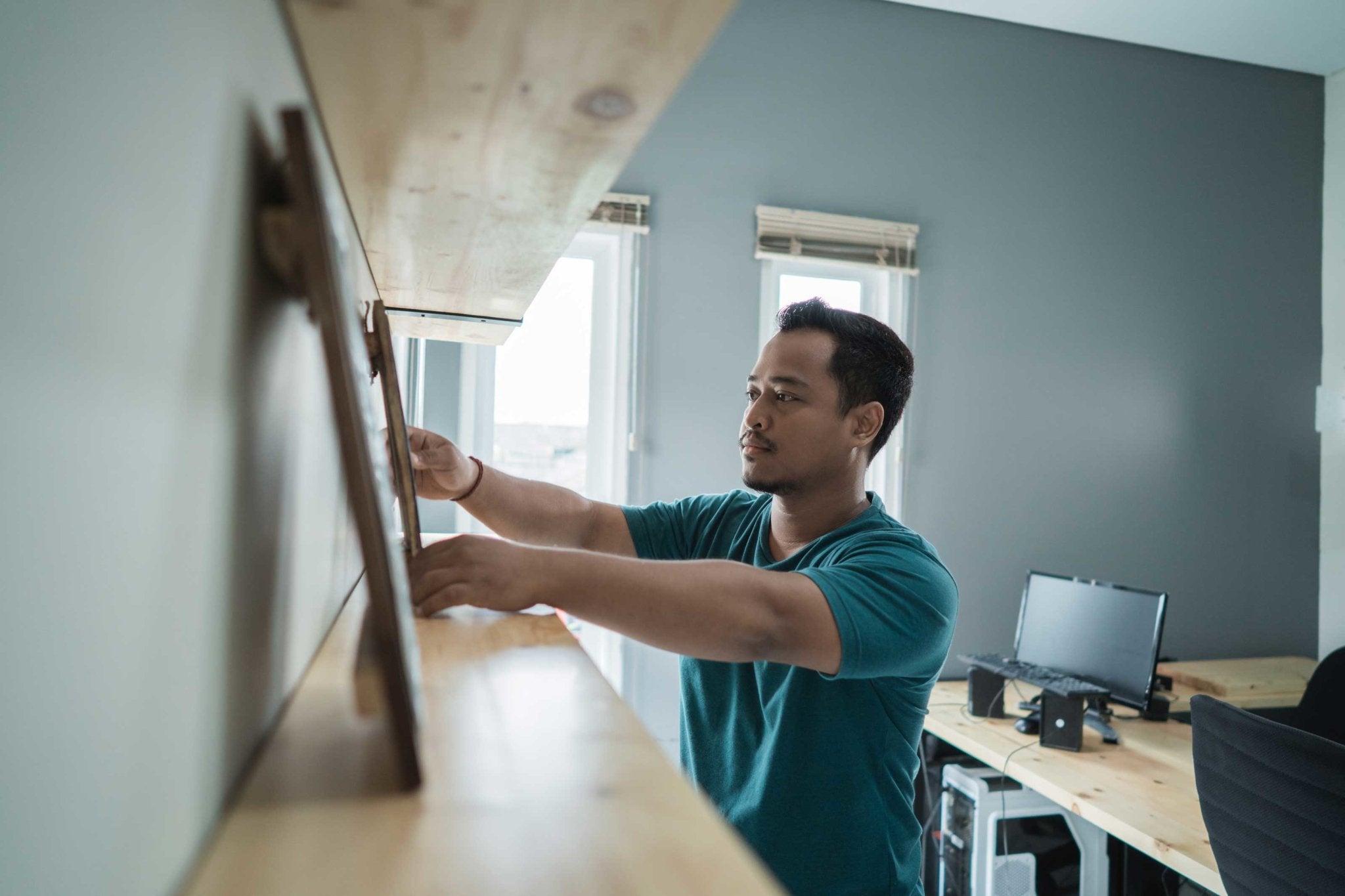 With the boom of the gig economy and small businesses, more people are migrating to smaller home offices, allowing for comfort and convenience without sacrificing a professional environment that supports efficient business operations. Unfortunately, for the unprepared, a small home office can quickly turn into a disorganized mess that more often becomes a complete distraction rather than an efficient workspace. 
Knowing how to set up furniture and accessories in a small workspace can make or break your workflow. If you are setting up an office space of your own, read on for some tips and tricks on how to arrange a small office room to work for your needs.
Use Your Vertical Space
Using your vertical space is often the most affordable way to make more efficient use of your office's square footage. If you're short on storage space and don't have a closet, shelving is a relatively inexpensive, easy to install, and versatile solution. You can use shelves for books, filing trays, storage baskets, organizers and much more.
In terms of a color palette, it's best to match with your existing furniture, but you can otherwise stick with black, white, or other neutral colors for maximum versatility. Be careful with your installation. Make sure you locate the studs properly or use wall anchors to avoid any damage to your walls or any items placed on your shelves.
Mount Your Monitors
Similar to shelving, mounting your monitors helps you make use of your vertical space. This allows you to do away with any excess TV stands or free up space on your desktop. The good news is that mounting is fairly straightforward. Before you start, check if your computer monitor can be mounted. All wall mounts follow the VESA (Video Electronics Standards Association) pattern, a standard pattern that essentially ensures that, given the right size, any mount will properly attach to your TV or monitor.
Start by considering the type of monitor mount that fits your needs.
Freestanding mounts – These are the most affordable and straightforward of your monitor mount options. Freestanding mounts essentially replace the standard mount or stand that your monitor comes with. However, third-party freestanding mounts offer much more customizability, allowing you to change the height, angle, and even rotation of your monitor. This provides ergonomic benefits on a budget and does not require you to drill holes or clamp anything to your desk.

Clamp mounts – Clamp mounts are the most common type of monitor mount, comprising an adjustable arm that clamps directly to the edge of your desk. The adjustable arm allows for full motion customizability to change viewing angles and height, which is particularly good if you frequently switch from standing to sitting or want to be able to show customers what's on your screen. The downside to these mounts is that they will not work on chunkier, box-shaped desks, though many do come with grommet style bases that can fit into existing holes in your desk.

Through-the-desk mounts – These are similar to clamp mounts in function but require you to either drill a hole in your desk or use an existing hole, like the cable management hole found in most desks. These are the way to go for larger desks or corner desks without an edge to clamp onto, but keep in mind they require making permanent or semi-permanent changes to your desk.

Wall mounts – Wall mounts are ideal for minimizing desk clutter. Unfortunately, your desk may not be near a wall, and not all rentals and office spaces allow you to drill into walls. Furthermore, wall mounts are mostly suitable for drywall. You may need some extra hardware if your walls are made of plaster or forms of masonry, like cement or brick. Even with drywall, make sure you anchor the mount and monitor with studs. Even the thinnest monitors are heavier than you think, and improper installation could result in a monitor on the floor and some large holes in your wall.
If you go with a multi-monitor setup, through-the-desk mounts are usually the best option as they are the most capable of handling all that weight. Quadruple-monitor configurations are common with through-the-desk mounts, allowing you to fully minimize workplace clutter. Wall mounts are usually the worst with handling multiple monitors, often leading to problems with any configuration requiring more than two standard monitors. For more monitor mounting tips, check out our simple step-by-step guide on how to mount your monitor. 
You should also keep in mind any wires and cables running to your monitors. Dangling cords can look bad and potentially present some safety issues. Many monitor arms and mounts feature built-in cord management systems, but you may otherwise need to use a cord concealing kit or find another means of organizing your computer wires.
Be Thoughtful About Your Furniture
A smaller office space naturally means that you probably won't be able to fit a large wood desk with numerous drawers and cupboards in it, but you can be thoughtful about your furniture in general. You may be hanging onto some pieces that aren't functional or rarely see any use.
For example, if your job requires frequent consultations and in-person meetings with clients, visitors' chairs make perfect sense. However, if your work does not necessitate regular face-to-face meetings, those chairs are likely just taking up precious space. Get rid of the guest chairs or consider wooden folding chairs that can be easily brought out and stored away as needed.
Similarly, consider the furniture arrangement in your workstation. If you have a large, L-shaped desk, think about how much you actually need the side section. There are other more economic options for storage. If you can unscrew or otherwise remove that side portion, you could free up a ton of space.Alternatively, you can push a large L-shaped desk into a corner to make the most use of the limited square footage of a small home office. 
If your desk features several side drawers, consider possibly consolidating the contents of drawers and removing the bottom drawers. This gives you floor space for a bin, organizer, or piece of equipment.
Ultimately, you want to think light, modern, and affordable with your furniture. Nothing should be bulky or clunky, meaning you may need to trade in your large mahogany desk for a simple, sleek task desk.
Stay Clean
Keeping your office space clean can help to clear up space, which can instantly present a less cluttered, more open space. Make it a regular habit to clean your office, whether that's once a day or once a week. This helps you take control of clutter before it becomes too unwieldy to handle.
This is also your opportunity to address any papers taking up space in your files or on your desktop. Use the system of three to decide what to do with each paper: toss it in the garbage, file it for later, or take immediate action. This may also be an opportunity to switch over to (mostly) digital documents, allowing you to save physical space file cabinets take up while avoiding paper waste.
Even if you don't go the full step of wiping down your table, end your day by clearing your desk. The only things that should be on your desk when you clock out are:
Items that are too heavy, like your computer

Anything plugged in, like your keyboard, mouse, and desk lamp

Any items that see regular use, including pens, pencils, and journal
This not only keeps your desk clear, but also makes things more mentally pleasing for the next morning. You certainly don't want to start your day off with a messy desk.
Running and maintaining a small business or side career already comes with plenty of difficulties and responsibilities. Keeping your office space uncluttered and well-organized can go a long way to ensuring efficient operations and keeping a positive mentality, all without spending too much money.
Sources:
---