The Best Standing Desks 2023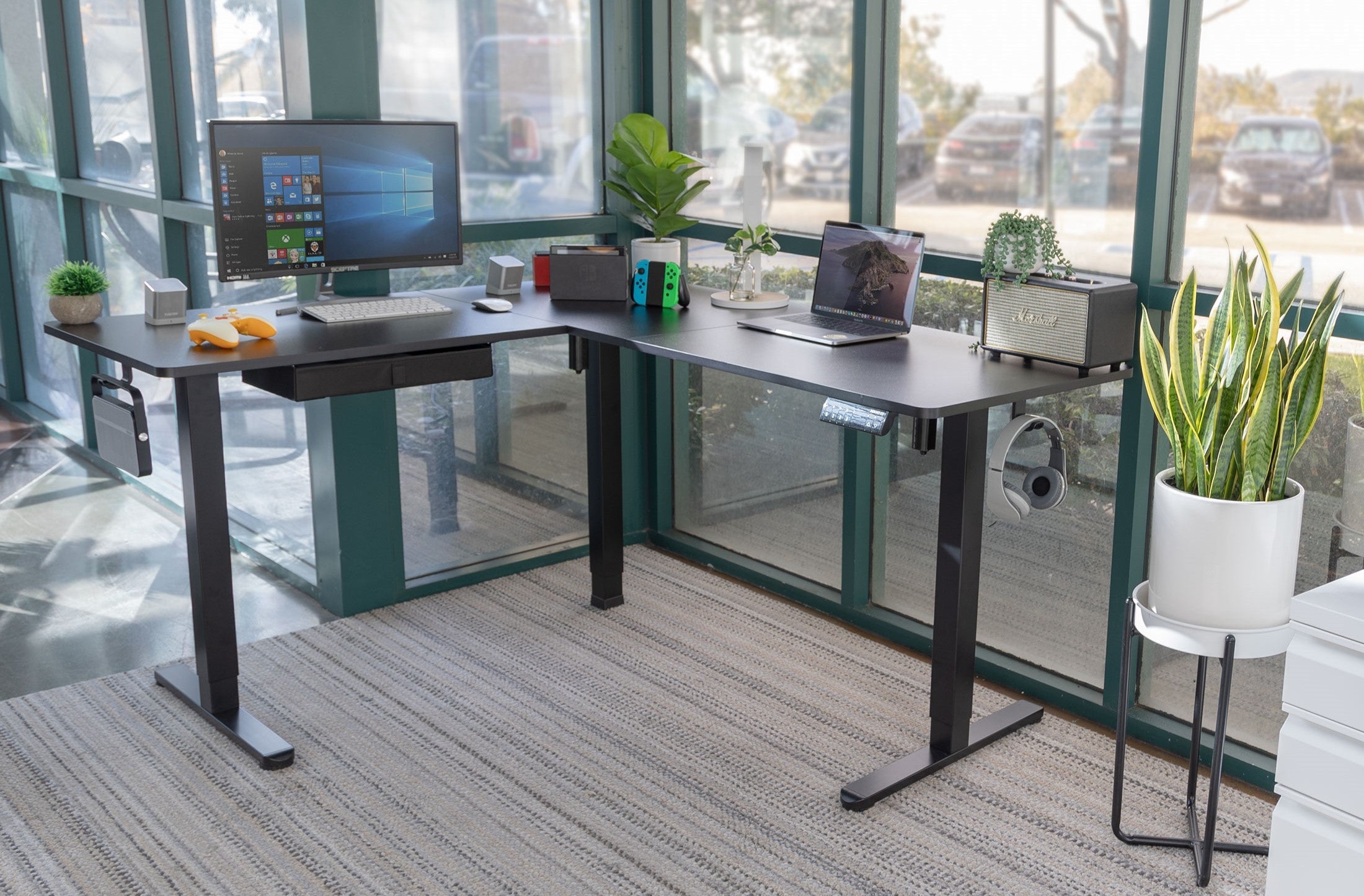 Are you ready to revolutionize your workspace in 2023? Say goodbye to the discomfort of prolonged sitting and embrace a healthier and more productive way to work with standing desks. In this comprehensive buying guide, we'll explore the top standing desks of the year, carefully curated to help you elevate your workspace and well-being.
Why Standing Desks Matter
Sitting for extended periods can lead to a myriad of health issues, from back pain to obesity. Standing desks offer a solution to these problems by allowing you to work on your feet, promoting better posture, reducing strain on your body, and enhancing overall health.
Factors to Consider When Choosing a Standing Desk
Before diving into our top picks, it's crucial to understand the key factors that should influence your decision when selecting a standing desk. Here are the essential aspects to consider:
1. Ergonomics
The foundation of a good standing desk is its ergonomic design. Look for desks that offer adjustable height settings to ensure that you can easily switch between sitting and standing positions. Additionally, consider the desk's ability to support a healthy posture.
2. Build Quality
Durability is key. Opt for desks constructed from high-quality materials, ensuring they can withstand daily use. Pay attention to weight capacity, as this determines how much gear you can safely place on your desk.
3. Size and Workspace
The size of your desk should match your workspace. Measure your available area and select a standing desk that fits comfortably. Some desks even offer options for corner configurations, which can be a space-saving solution.
4. Electric vs. Manual
Electric standing desks offer the convenience of effortless height adjustments with the push of a button, while manual desks rely on physical effort. Consider your preferences and daily routine when choosing between these options.
Top Picks for Standing Desks in 2023
We've scoured the market and handpicked the best standing desks of 2023 for you. Here are our top recommendations:
Dual Motor Electric Sit-Stand White Desk Frame
Elevate your workspace with this stylish Dual Motor Electric Sit-Stand Desk. It features an extra-wide tabletop with a variety of colors to choose from and a dual motor for smooth height adjustments. The sleek design complements any office decor.

Overview: Experience the ultimate solution for a dynamic and ergonomic workspace! This top-tier electric sit-stand desk offers a spacious 55" wide tabletop and is equipped with two robust motors, double crossbars, and 3-stage telescoping legs, guaranteeing unparalleled stability, even at its highest setting. Enjoy reliable height adjustments every time you need them.
Switching between sitting and standing has never been easier – simply press a button on the user-friendly control panel. No more guesswork! The keypad provides memory settings for your preferred heights and a timer function to remind you when it's time to switch positions.
This electric sit-stand desk is designed to accommodate a wide range of users with its impressive height adjustment range, spanning from 25.4" to 51.4". Safety is a priority, as it features an integrated anti-collision system that detects objects in its path, halting the motor automatically for your peace of mind.
In addition to its functionality, this desk boasts an integrated cable management system that ensures a tidy and clutter-free workspace, whether you're at home or in the office. Upgrade your workspace to new heights with this exceptional electric sit-stand desk.

Specifications:
Motor: Dual motor height adjustment
Height range: 25.4" to 51.4"
Tabletop Dimensions: 55"W x 29"D x 1"H
Weight Capacity: 220 lbs
Controls: Electronic
Buy now: Dual Motor Electric Standing Desk with 55" Tabletop
Large Height Adjustable Corner Sit-Stand Desk
If you're short on space, this Large Height Adjustable Corner Sit-Stand Desk is a game-changer. Its ergonomic design fits perfectly in the corner of your room, making the most of your available space.

Overview: Maximize your workspace with a large height-adjustable corner desk that seamlessly integrates movement into your work routine without compromising valuable desk space. Transition between sitting and standing effortlessly at the push of a button, while the advanced digital control panel offers three memory settings for your preferred heights. An integrated anti-collision function ensures a smooth descent without bumping into obstacles. This corner desk is designed for organization with a cloth drawer, hooks for bags or headphones, and efficient cable management. The desk's dual motors provide silent height adjustments ranging from 28.3 to 46.5 inches. Moreover, you have the flexibility to install the longer desktop piece on either the left or right side, adapting to your unique workspace needs.

Specifications:
Height Adjustment Range: 28.3" - 46.5"
Dual Motor
Noise Level: < 55 dB
Control Panel Type: Digital
Memory Positions: 3
Accessories included: 2 hooks, 1 cloth drawer, 1 cable holder
Legs: 2-staged square column
Speed: 20mm/sec.
Max. Load Capacity: 176 lbs
Desktop Dimensions: long side: 63" x 23.6" / short side: 55.1" x 23.6"
Desktop Thickness: 0.7"
Power Input: 110V - 240V
Material: Steel (frame), aluminum (feet), particle board (desktop)
Available Tabletop Colors: Black or Rustic Brown
Buy now: Large Height Adjustable Corner Sit-Stand Desk
Electric Sit-Stand Desk with Drawer
Stay organized with this Compact Height Adjustable Sit-Stand Desk featuring a convenient drawer. Keep your essentials close at hand while enjoying the benefits of a standing desk.

Overview: Elevate your workday and productivity with this stylish and adjustable desk, designed to infuse movement into your routine while enhancing the aesthetics of your home or office workspace with its contemporary white frame and light brown real wood desktop. Stay connected and powered up with integrated USB and Type-C ports, and keep your workspace clutter-free with a convenient drawer for writing essentials and an integrated cable management system. Safety is a top priority with the anti-collision feature, ensuring that objects are detected and movements are halted when lowering the desk. Moreover, the integrated sleep mode conserves power by automatically turning off the display, easily reactivated with a three-second press of the "S" button. Make this versatile and sleek desk the centerpiece of your workspace, promoting both a healthier lifestyle and increased productivity.

Specifications:
Height adjustment range: 28.3" - 46.5"
Single motor
Control panel type: Digital with 2 USB ports + 1 type C port
Memory positions: 2
Noise level: < 55 dB
Legs: 2-staged rectangular column
Speed: 20mm/sec.
Desktop dimensions: 47.2" x 23.6"
Desktop thickness: 2.2" total incl. drawer
Max. load capacity: 154 lbs
Power input: 110V - 240V
Color: White (frame), light brown woodgrain (desktop)
Material: Steel (frame), solid wood (desktop)
Buy now: Compact Height Adjustable Sit-Stand Desk with Drawer
Electric Standing Desk Converter
If you already have a desk you love, but want to add standing capabilities, consider this Electric Standing Desk Converter. It transforms your existing workspace into a height-adjustable standing desk.

Overview: Transform your standard desk or table into a dynamic sit-stand workstation effortlessly and introduce movement into your workday. Embrace the benefits of seamlessly shifting between sitting and standing, promoting a healthier work routine and heightened productivity. The built-in motor allows for quick and easy height adjustments at the press of a button, while the wide, high-quality MDF platform, featuring rounded edges, accommodates widescreen monitors, dual monitors, or a monitor and laptop, facilitating your ideal workspace. The spacious lower keyboard platform comfortably fits a full-size keyboard with a number pad and a mouse on a pad. The integrated device channel securely holds your tablet or smartphone, complete with cable routing slots for convenience. This electric desk converter boasts an extra-wide design that's shallow enough to fit on compact desks while providing ample workspace. Its vertical scissor height adjustment conserves space, making it a smart alternative to traditional converters. Plus, integrated rubber feet safeguard your tabletop from scratches. Upgrade your workspace for optimal health and efficiency with this versatile electric desk converter.
Specifications:
Desktop Size: 38" x 19.68"
Keyboard Tray Size: 38" x 11.8"
Height Range: 5.9" - 19.3" (infinite)
Height Adjustment: Electric
Weight Capacity: Desktop 28.6 lbs / Keyboard tray 4.4 lbs
Material: MDF (desktop), steel (frame)
Available Colors: Black, white, walnut 
Buy now: Electric Standing Desk Converter with 38" Desktop
Mobile Sit-Stand Computer Workstation
This Mobile Sit-Stand Computer Workstation is perfect for those on the move. It's equipped with wheels for easy relocation, making it ideal for shared workspaces or multi-purpose rooms.

Overview: Experience the versatility of a complete sit-stand workstation that adapts to your needs, wherever you choose to work. This mobile desk is equipped with four casters for easy mobility, offering a spacious desktop suitable for your laptop or computer screen, along with a dedicated tray for your keyboard and mouse. Additional storage shelves are thoughtfully integrated for your CPU and printer, complementing your desktop PC setup. With gas-spring height adjustment ranging from 29.5" to 43.3", you can effortlessly transition between sitting and standing throughout your workday by simply pressing the handle to achieve your ideal ergonomic position. The built-in device slot keeps your tablet or smartphone within view, adding convenience to your workspace. This compact workstation is a valuable addition to any environment, whether it's a home, office, or school, particularly where space is limited, and adaptability is paramount.
Specifications:
Desktop Size: 28" x 15.4"
Desktop Load Capacity: 33 lbs
Keyboard Tray Size: 28" x 10.2"
Keyboard Tray Load Capacity: 4.4 lbs
Height Range: 29.5" - 43.3"
Height Adjustment: Gas spring
Casters: 4 (2 of them locking)
CPU Holder Adjustable Width: 4.7" - 8.3"
Material: Steel, MDF
Color: White
Buy now: Mobile Sit-Stand Computer Workstation
The Benefits of Standing Desks
Choosing a standing desk goes beyond addressing health concerns; it can significantly impact your work life. Here are some key benefits of using a standing desk:
1. Improved Posture
Sitting for long hours often leads to poor posture. A standing desk encourages you to maintain a more upright position, reducing strain on your neck and back.
2. Enhanced Productivity
Many users report increased focus and productivity when using standing desks. The ability to switch between sitting and standing keeps your energy levels up throughout the day.
3. Healthier Lifestyle
Standing while working can help you burn more calories and reduce the risk of weight gain and related health issues. It also promotes better blood circulation.
4. Customization
With adjustable height settings, standing desks cater to your specific needs. You can easily find the perfect height for typing, reading, or even drawing.
Standing Desks Are a Smart Investment in 2023
In 2023, upgrading your workspace with a standing desk is a smart investment in your health and productivity. The best standing desks of 2023 offer a range of options, ensuring there's a perfect fit for every workspace and lifestyle. By choosing a standing desk that suits your needs, considering ergonomics, and making the most of its benefits, you can create a healthier and more comfortable work environment. Say goodbye to the aches and pains of sitting for hours on end and hello to a more dynamic and productive workday. Make the switch to a standing desk today and take your work experience to new heights.
---