Monitor Solutions
Monitor Solutions
Monitor Solutions
111 products
Health and ergonomics are part of a happy productive you! Mount-It! offers multiple types of desk mounting solutions to fit different work environments that will give you the opportunity to maximize efficiency and comfort, boosting productivity and improving posture. Whether you are working with one or multiple screens in the office or at home, we have the right monitor mounts for your needs.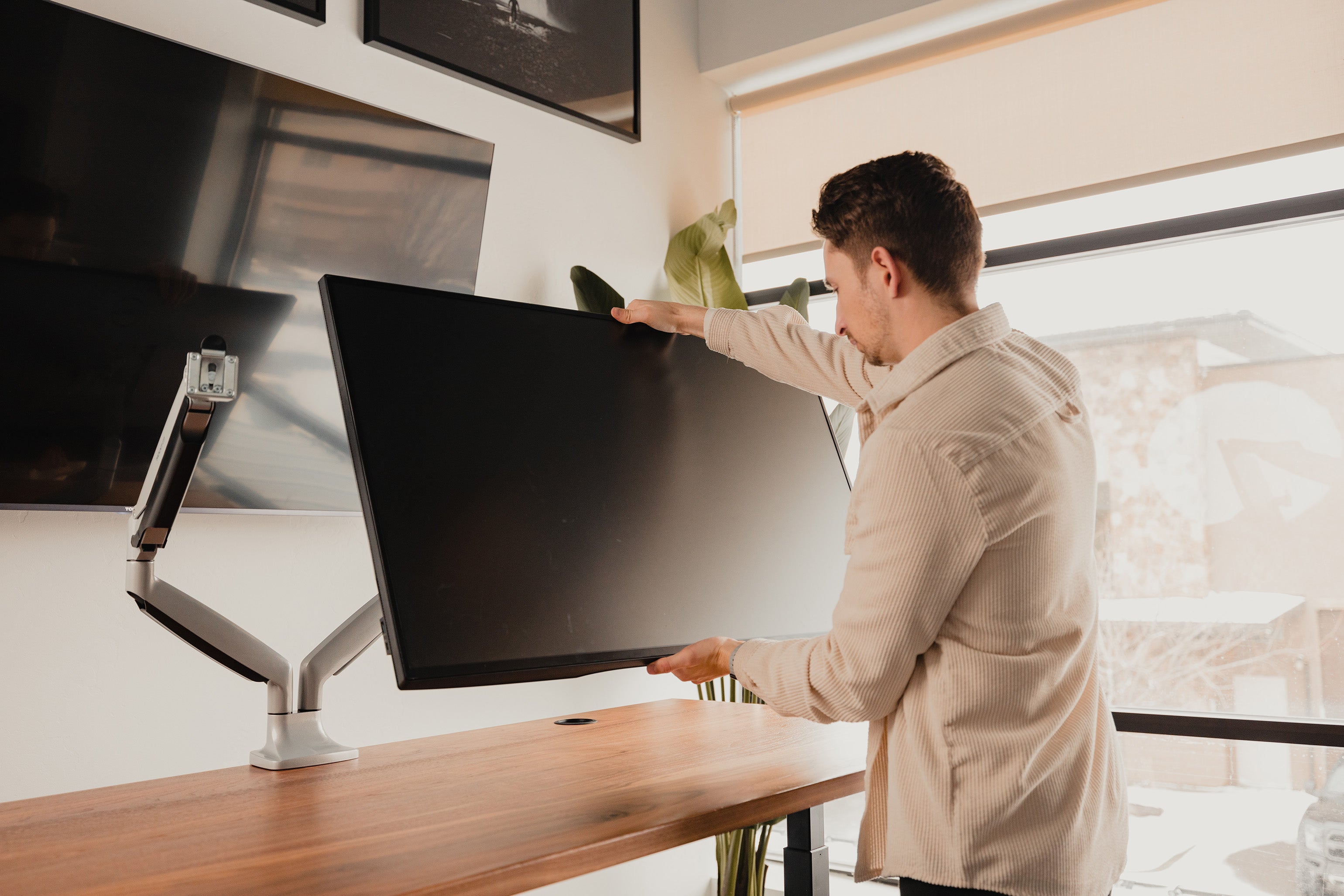 How To Wall Mount a Monitor
Whether you are looking to mount your computer monitor or your TV to the wall, we have the right solution for you. Our monitor wall mounts allow you to free up valuable desk space and help create a productive workspace with one or two monitors. Before deciding on your new wall mount, check to see whether your monitors are VESA compatible as all Mount-it! monitor wall mounts come with a standard VESA plate. Our easy to follow installation videos and manuals will help you with installation. More information on how to mount your monitor or TV on the wall can be found on our installation page. Should you need any further help, our customer service team will be happy to assist you.
Can All Monitors Be Wall Mounted?
At Mount-it! we carry a wide selection of monitor wall mount solutions to meet your needs. Choose between a variety of single monitor arms and dual monitor mounts that help you set up a more ergonomic and productive workspace.  Just like a desk mount, our computer monitor wall mounts are compatible with standard VESA patterns. Check the back of your monitor to make sure it has the evenly spaced out mounting holes. A computer monitor usually comes with a 75 x 75 mm or 100 x 100 mm VESA pattern. If your monitor is not VESA compatible, our VESA mount adapters can provide you with an alternative solution.
How To Mount Your Non-Vesa Monitor
You are looking to mount your non-VESA compliant monitor to a VESA monitor mount? Our universal VESA adapter kit can help you achieve this. The VESA adapter allows you to attach your screen to a VESA 75 or 100 monitor arm and create a healthier and more productive workspace.
Dual Monitor Mount
Did you know that working with two screens as opposed to just one can increase your productivity by up to 42%? Here at Mount-it! we offer a wide selection of dual monitor mounts that help you set up a healthier and more productive workspace in the office or at home. Choose between height adjustable mounts, full motion monitor arms or the most flexible gas spring mounts to find your perfect set-up. The adjustable gas spring arms enable you to easily swivel, tilt and rotate your monitors as needed. This is great for sharing your screen with a colleague or quickly positioning your monitor to your perfect height when working on a flex desk. Whether you prefer to mount your monitor arm to your desk or attach it to a wall, at Mount-it! you will find desk mount arms, monitor stands, and wall mount options to create your ideal workspace.
Triple Monitor Mount
Whether your line of work requires you to use three monitors or you have your perfect multiple-screen gaming set-up at home, a triple monitor mount can help you free up valuable desk space and position your screens at eye level. Choose from our selection of side-by-side or pyramid triple monitor arms to find your perfect fit. Mount-it! monitor mounts can be easily installed to your desk using the clamp or grommet mount options. For help on how to install your new monitor arm, follow your simple step-by-step guide. Choose a gas spring arm for added flexibility and swivel, tilt and rotate each monitor as desired. If you are on a budget, a pole-mounted height and depth adjustable triple arm could be the solution for you.
Monitor Stands & Risers
Free standing monitor mounts offer the perfect alternative if your workplace does not allow for clamp or grommet installation. Simply put the monitor stand on your desktop, attach your monitor and start working more ergonomically and productively. Choose between a variety of height adjustable and depth adjustable single, dual, triple and even quad monitor stands to suit any workspace. Monitor stands are a great solution for corner desks as well as home office environments where desk space is often limited. With these free standing arms you can easily create a healthy workspace with 1, 2 or more screens. Monitor risers are a quick solution if your main concern is elevating your screen to a preset height without the need for flexible adjustments.
Shop our monitor collection here.