How to Hide Ugly TV Wires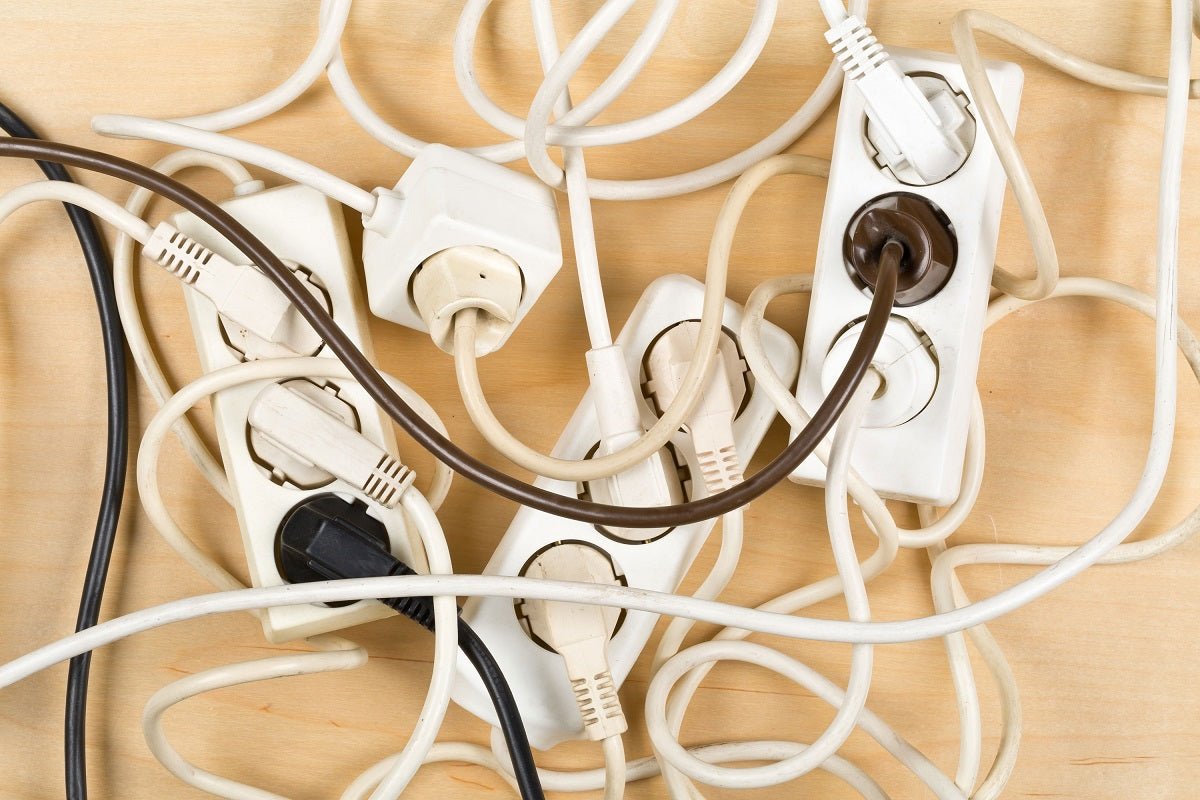 Despite the growth of wireless devices, most home electronics still predominantly rely on wires. Unfortunately, the wire conundrum can easily get out of hand. With new gaming consoles, Blu-Ray players, cable boxes, sound systems, and other accessories connected to your TV, you could have a tangle of wires and power cords that look like a mess, which makes it harder for you to rearrange, unplug, or otherwise add something new to your home entertainment setup. This gets even more out of hand when you choose a TV wall mount. 
The good news is that there are a variety of ways to hide TV wires for all situations and price points, allowing you to maintain a neat, tidy, and functional space. Read on to learn how you can better manage and hide TV wires in your home.
Use Your Furniture
This solution works best if you have your TV sitting on a desk, table, or entertainment console. Simply gather your wires and anchor them directly to the piece of furniture using some strong tape or, better yet, cord clips. You can use the clips to run the wires behind the legs of the table, down to the electrical socket.
Alternately, many TV stands and consoles feature cord storage systems built into their designs. This usually comprises a hole on the surface of the stand or console and an opening in the back, allowing you to feed your wires into and through the system to the nearest power source.
Granted, this does not apply to TV mounts, and as effective as it can be in terms of keeping your cords and cables out of sight, you may still have a disorganized situation that may require more than a few zip ties to keep them hidden.
Within Your Walls
For wall-mounted TVs, hiding your stray electrical cords in your walls is one of the best ways to keep your wires out of the way and organized, and it's easier than you think. You can find kits at your local hardware or electronics store that allow you to create an in-wall cord system of your own. It should be noted that regular power cords cannot be threaded behind a wall. It's against National Electrical Code as these cords can overheat, get damaged, or otherwise pose a fire hazard. Simply put, regular power cords are not rated to go behind your walls.
Thankfully, there are safe, code-compliant kits to still do this. These kits come in varying forms and permutations, but they all comprise the same general idea: running the cords and cables from your TV, into your wall, and out somewhere lower, out of sight, and near their accompanying accessories.
Along with the kit or mount plates, you will need a measuring tape, a screwdriver, and something to cut into your drywall. This may mean a drywall saw, but some kits feature drill attachments that allow you to make appropriately sized holes in your wall. You may also need a stud finder to ensure that you cut into the open spaces between studs and not the studs themselves. Be careful with any insulation inside the walls. You want to cut one hole behind your TV and one hole behind your entertainment center. If you want to learn how to mount a TV on the wall without studs, we'll show you alternative ways.
From there, it's just a matter of getting the in-wall cord system into the hole. This essentially creates a tunnel through which you can thread the wires from your TV into the wall. Cover the holes with the provided plates, securely screwed to the wall, and you should be good to go.
This is a relatively simple solution that will take you about half an hour. Kits can range in price, but you can expect to spend about $30 to $50. For the ultra-affordable option, you can purchase a pair of recessed cable plates for about $10. The plate doesn't provide the same sort of tunnel for your wires, meaning you may need to take some extra care and zip ties to keep your wires tight behind the wall. However, if you truly are not sure about installing wires behind your walls, you can always ask for professional help.
The main issue with these DIY in-wall solutions is that they are mainly reserved for drywall thanks to the naturally hollow walls. This DIY option is not feasible for walls made of brick, cement, or other masonry.
Hiding in Plain Sight
If you don't want to deal with cutting into your wall or don't have that as an option, you can go with the next best thing: hiding your wires in plain sight. This involves cable concealer kits, which are plastic tracks that attach directly to your walls to hide TV cords. Granted, a slim strip of plastic on your walls will still be noticeable, but it will be less of an eyesore than a tangle of wires draped behind your TV.
Installing these concealers is fairly straightforward, though it will take a little time and elbow grease. You will start by measuring the length of the wall from the base of your TV screen to the floor, giving you the length of cord cover that you need. This may mean cutting some of your cover to fit the length.
From there, follow the manufacturer's instructions. Most of these kits should start with a base that attaches to the wall with screws. Lay your electrical cords into this case and snap the cover on to hide TV cords from view.
Many of these concealer kits are white or neutral in color, while others embrace the "not truly hidden" idea by offering a mix of different colors that treat the concealer kit like an accessory or a piece of décor. Alternately, you can paint the cord cover the same color as your wall, allowing for an extra level of camouflage and concealment. This solution is also fine for all wall types, not just drywall.
Professional Options
Depending on your budget and needs, you can also go the professional route. This usually involves installing an entirely new electrical socket behind where you plan to have your TV. While you will still need to wrangle long wires, this allows you to plug cords discreetly behind the monitor. You shouldn't try to install an entirely new outlet on your own unless you have the wiring and electrical expertise. Hiring a professional who is qualified and insured is affordable and will save you money in the long run in terms of not needing to worry about an electrical fire.
Wires are an inevitability. While a truly wireless existence may be somewhere in our future, for now, you can rest easy knowing that there are numerous ways to organize and hide TV wires as well as maintain a clean, neat aesthetic.
You might also be interested in reading the following article: How To Mount A TV On The Wall Without Studs
Sources:
1: https://www.bobvila.com/articles/how-to-hide-tv-wires/
2: https://www.younghouselove.com/how-to-hide-tv-wires/
3: https://www.popularmechanics.com/home/how-to-plans/how-to/a18787/how-to-hide-tv-wires/
4: https://thewirecutter.com/blog/how-to-mount-a-tv-without-making-a-mess/
---