NEW
Dream Desk Builder
Dream Desk Builder
Customizing your desk offers a personalized touch to your workspace that goes beyond mere functionality. When you build your own desk, you have the freedom to tailor it to your specific needs and style preferences. It becomes an extension of your personality, reflecting your unique taste and enhancing the overall aesthetic of your workspace.
Additionally, a custom-built desk allows for optimal organization, ensuring that every drawer, shelf, and compartment is designed with your workflow in mind.
Build my desk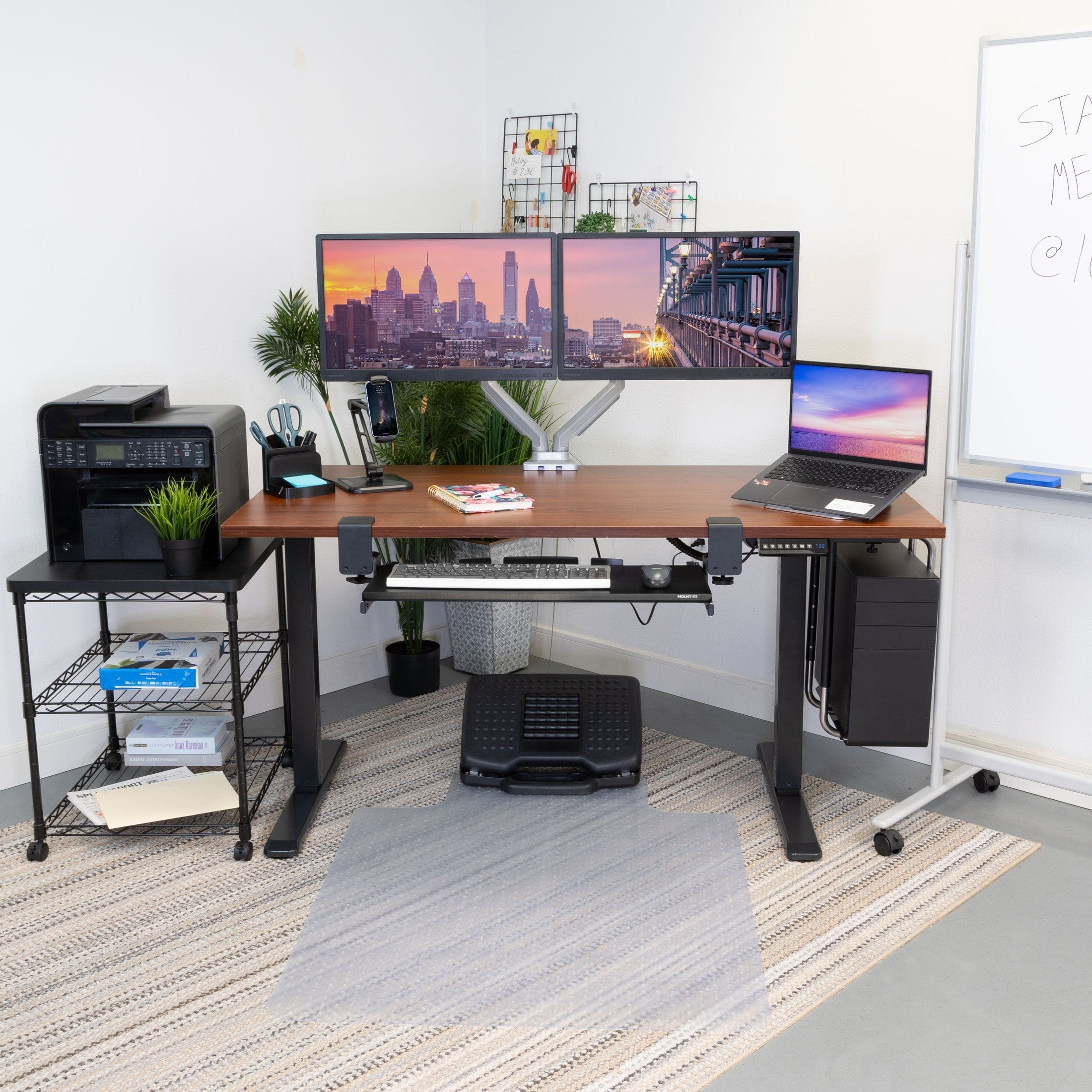 How does it work?
Whether you prioritize ample storage, integrated cable management, or a particular desk color, crafting your desk from scratch provides a sense of ownership and satisfaction that standard, off-the-shelf options may not deliver. In the end, a custom desk is more than just furniture; it's a manifestation of your creativity and a functional centerpiece for productivity.
1. Select a Desk Frame
1. Select a Desk Frame
Begin the journey to your ideal workspace by selecting a sturdy standing desk base that suits your needs. Whether it's the ultimate electric-powered dual-motor powerhouse model with telescoping legs and memory setting keypad or a simpler manual hand-crank option, this foundational decision sets the stage for your customized creation.
2. Choose a Table Top
2. Choose a Table Top
Elevate your desk game by handpicking the perfect desk top. From rich wood tones to minimalist black or white, the choice is yours. Consider the dimensions, aesthetic preferences and functional requirements when making your choice. A spacious surface for spreading out paperwork or a compact design for cozy corners – your desk top is where style meets substance.
3. Add the Right Monitor Arm Mount
3. Add the Right Monitor Arm Mount
A monitor arm mount is a must for an optimal standing desk workspace.  They allow you to raise, lower, swivel and tilt your monitor to best match your current standing or sitting position for best neck and back ergonomic alignment.  Dual monitor arm mounts can improvise productivity be saving you from switching from tab to tab by effectively giving you two separate workscreens from which to operate.
4. Accessorize It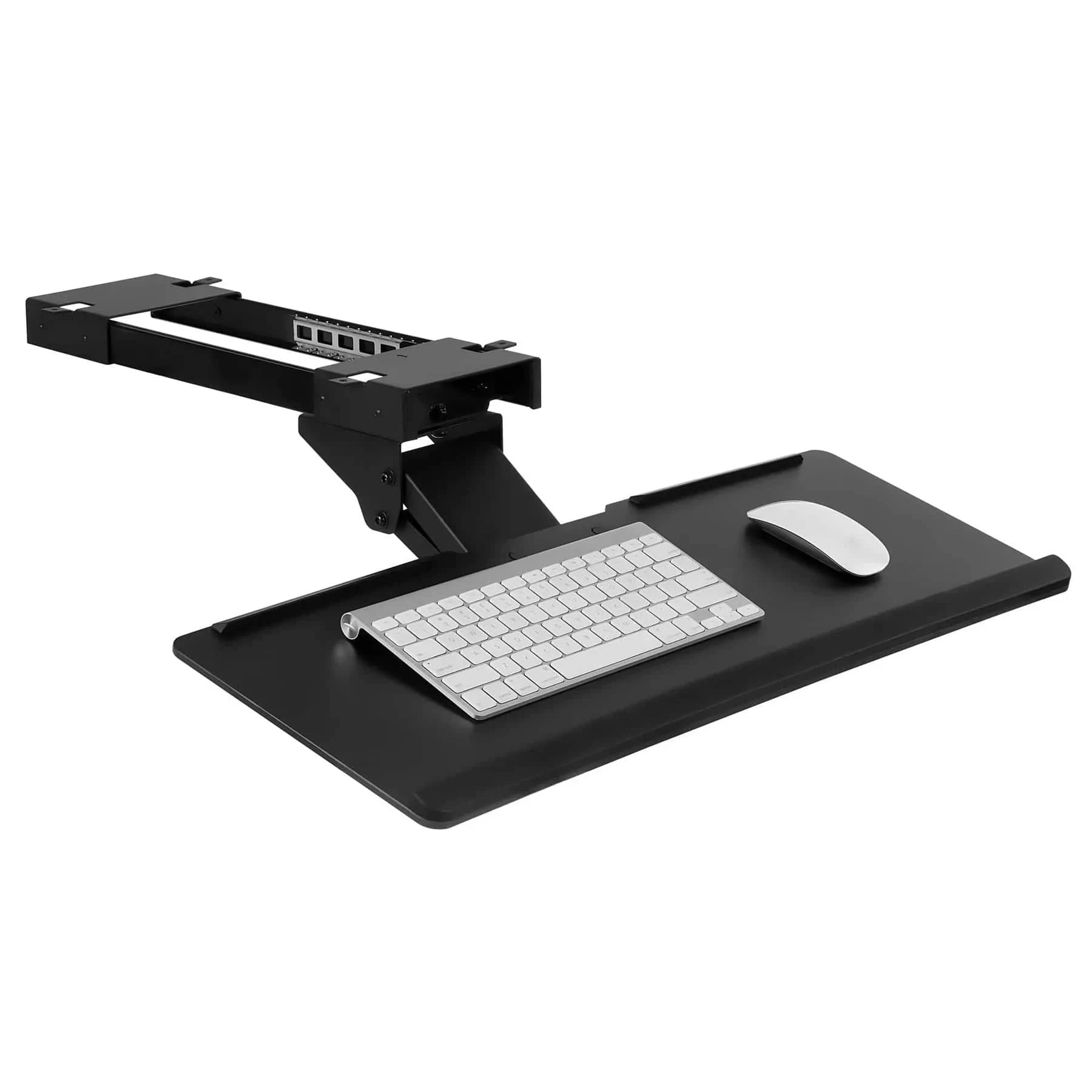 4. Accessorize It
Tailor your desk further with optional add-ons. Choose from an array of storage solutions, such as underdesk drawers and keyboard shelves, cable management systems, and file cabinets to keep your workspace clutter-free. Customize the set-up to enhance your workflow align with your work habits.
5. Think Ergonomically
5. Think Ergonomically
Infuse your desk with ergonomic elements for comfort during those long work sessions. Select an adjustable stool, a footrest or even an anti-fatigue mat for a standing desk setup. Each option is an opportunity to enhance the ergonomic functionality and comfort of your workspace.
6. Add Your Personal Touch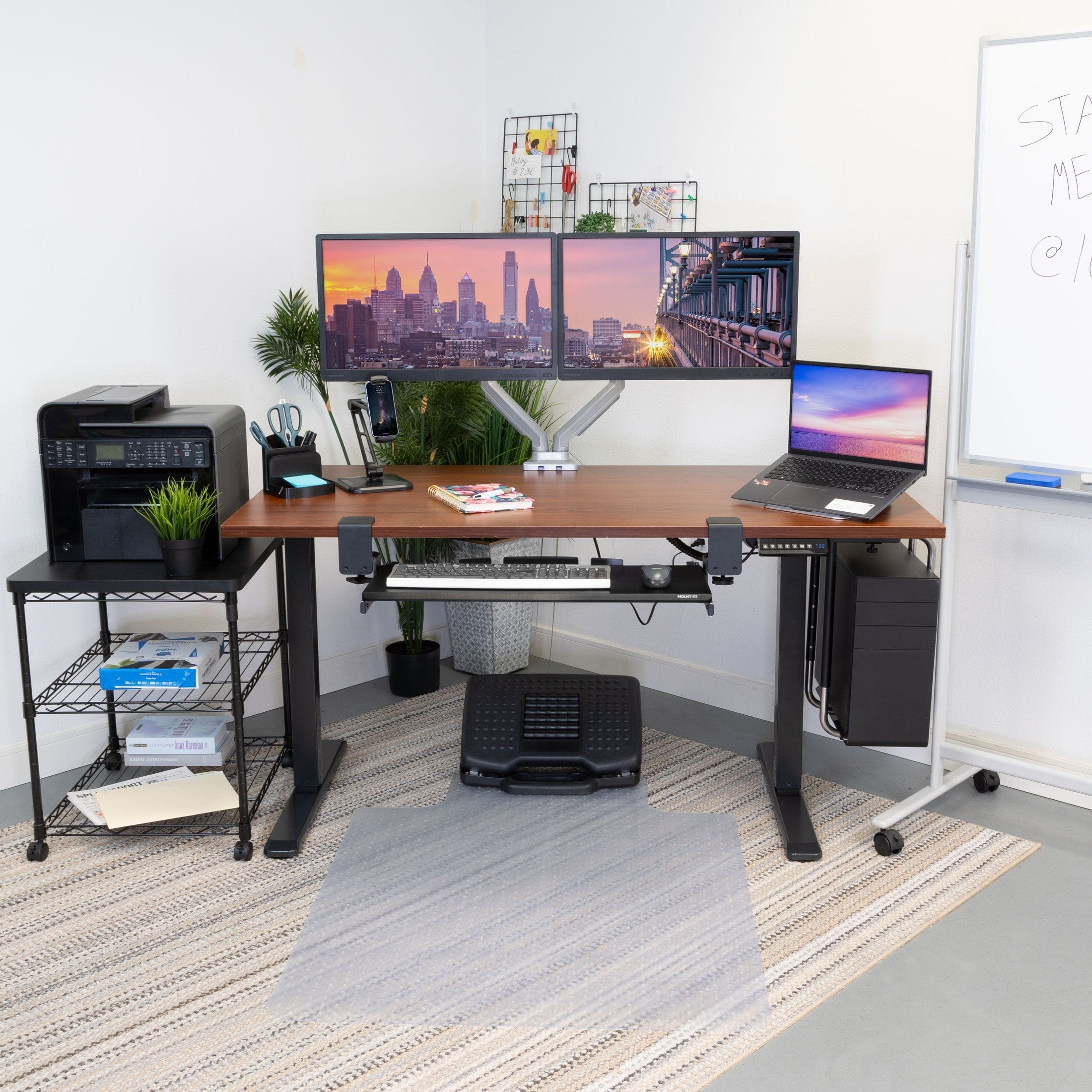 6. Add Your Personal Touch
Add the finishing touches to make your desk uniquely yours. Decorate with plants, personal items, or inspiring artwork to create a motivating atmosphere. Embrace the freedom to design a desk that not only serves your practical needs but also resonates with your individual style, transforming your workspace into a haven of productivity and self-expression.