How to Create an Outdoor Entertainment Area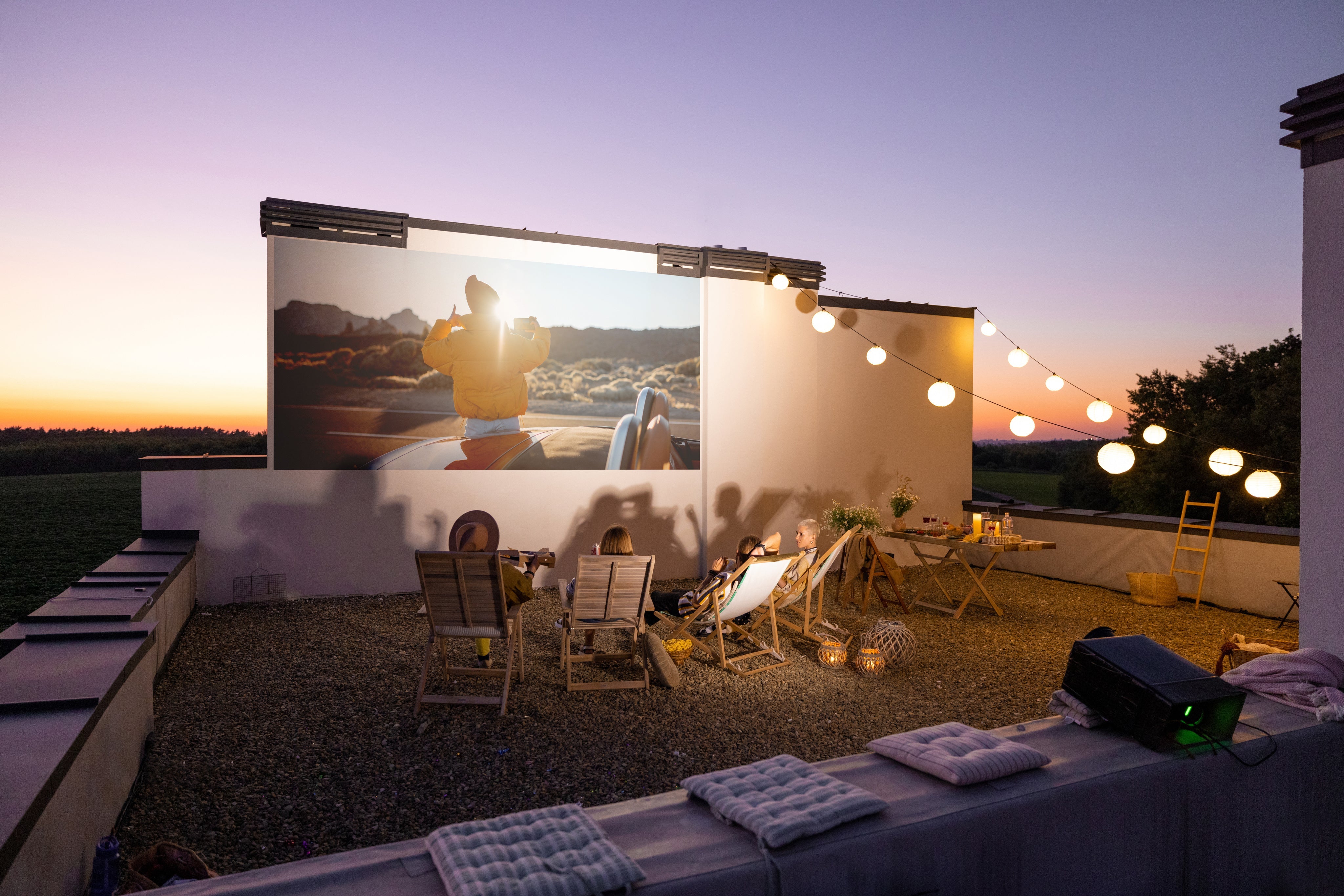 With the weather warming up and the continued quarantining and social distancing measures, it's as good a time as any to spend some time in your outdoor space to soak up some sun and feel the breeze on your skin. Creating the right outdoor entertainment area does take some proper planning and precaution to ensure that you have optimal space, whether you want an outdoor fireplace, terrace, or to put your home movie theater ideas to use. Learn how to create the perfect backyard entertainment space below.
Start Clean
Before you start putting out the furniture, hanging up the string lights, and setting up the speaker system it's important you clean your outdoor space. This will help you better assess the physical space available and plan out your next steps to creating the perfect outdoor entertainment area. Take care of any landscaping, trim back any tree branches, and clean up your patio or deck. Starting from a blank slate will make the process much easier.
Consider Your Patio
A patio is by no means a requirement for a good time, but it can be a big help for your outdoor entertainment area, especially if you are planning to mount a TV or sound system.  A patio essentially gives you a good foundation for furniture, and a patio cover ensures general protection from the elements.
If you have an existing patio, evaluate its size and condition, making sure to patch up any cracks and damage. There are thankfully plenty of different options if you choose to replace or expand your patio or build anew, from wood to concrete to brick.
Think Living Room
Thinking of your outdoor space as a living room is the easiest place to start. Add a few comfortable seating options, a large outdoor dining table, and a rug, and you are already most of the way to a solid outdoor entertaining space. You can simply expand from there to get the most out of your outdoor space. Add a central focus to the living space, like a water feature, garden, or an outdoor firepit.
Your Sound System
A good time calls for good music and ambiance, and while there's nothing wrong with a portable Bluetooth speaker, you can take your outdoor audio experience to a whole new level with a full surround sound system. However, this takes some careful planning. When mounting your speakers, be sure to spread your speakers throughout your outdoor space, all facing toward your home. This will ensure your outdoor oasis has the best acoustics possible. 
From there, figure out how you want to connect speakers to a source. The easiest option is to connect your speakers to a computer or other indoor sources. You can then step inside to switch playlists or sync your phone and control everything via Bluetooth.
Outdoor Video
Whether you want to catch the game or have an outdoor movie night, having a screen of some kind outside is convenient. Your two general options are an excellent flatscreen outdoor TV or a projector system. Projector systems can be more affordable upfront, but they will require regular maintenance on top of a projector screen or a clean, blank surface to project onto. A good flatscreen is more comfortable to set up and use right out of the box, and you can find a quality TV for a fair price.
If you go the flat screen route, consider wall-mounting instead of setting it on a table. This provides a more aesthetically pleasing look and can help to reduce clutter. Make sure you also invest in a wire management system to conceal cables and avoid tangles.
Grilling Up
If you don't have space for a full outdoor kitchen, consider setting up a barbecue. Nothing beats having some food right off the grill to enjoy in the sun. For serious grillers, a built-in grill is ideal, but a separate electric or charcoal grill gives you plenty of power and convenience to entertaining your friends and family. Whether you have a swimming pool or outdoor bar, you can create a great entertaining space for an outdoor party!
Don't forget to add your own creative spin and character to your outdoor area to make it a space of your own. 
---