Mount-It! Donates Standing Desks to Local School Teachers Amid COVID-19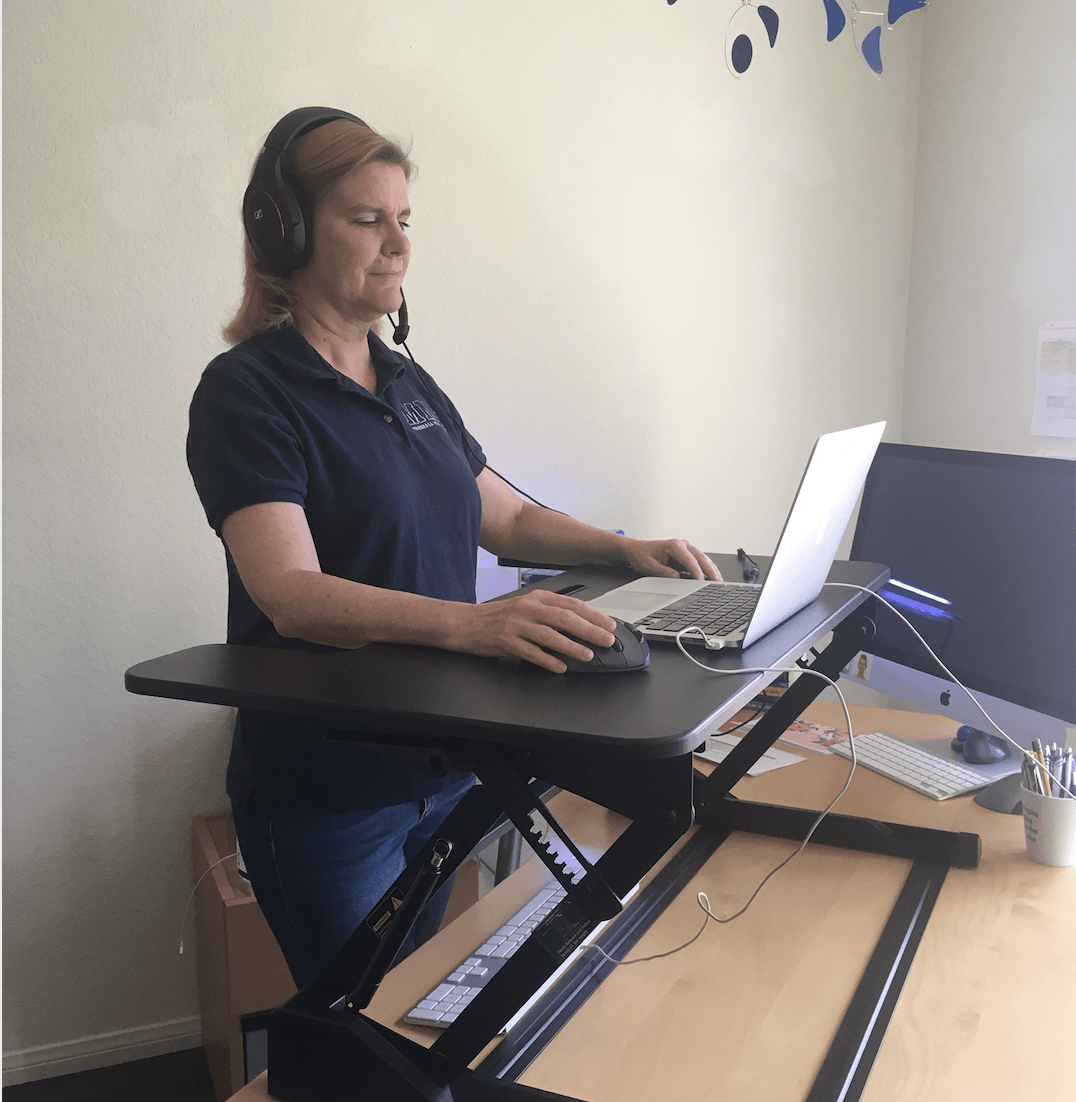 As the novel coronavirus continues to spread globally and science continues its research into potential treatments, everyday people have had to adjust in a variety of ways, some more drastic than others. While face masks and social distancing have become the norm for almost everyone, teachers have been faced with the challenge of keeping their students engaged while teaching remotely.  As the founders of Mount-It! brainstormed how they could leverage their business to support those in their local community, their thoughts kept circling back to these school teachers. 
Mount-It! Gives Back
Mount-It!, an entertainment and office equipment company based in Poway San Diego, was founded on the principle that making small ergonomic changes to your space can lead to long term health benefits. With this in mind, the executives at Mount-It! decided to tap into their resources to provide local middle school teachers with standing desks. Not only were they hopeful that these standing desks would help to ease some of the stress and pressure of the times, but they also wanted to show their support for local teachers and continued education during these difficult times. 
"We are happy to announce, we have donated sit-stand desks to our local middle school teachers. We appreciate the hard work they have done trying to teach at home, and we'd like to make their work from home a bit easier with the proper office equipment!" - Firat Ozkan, Co-Founder
Below you can learn more about standing desks and how they can help teachers and others who work at desks to maintain a healthier lifestyle while working.
Why Use a Standing Desk?
As a means of supporting teachers in this time of need, Mount-It! is donating standing desks to local teachers to help ease some of the stress and pressure of the times and the job. Learn more about standing desks and how they can help teachers and others who work at desks.
Why Use a Standing Desk?
Numerous studies suggest that sitting for long periods of time can contribute to a wide range of short- and long-term issues. In the short-term, excess sitting can contribute to strain on your back and hips, weak leg and gluteal muscles, and a stiff neck and shoulders. In the long-term, long periods of sitting has been associated with weight gain, varicose veins, heart problems, and an increased risk of diabetes. Sitting too much is also associated with mood problems and an increased risk of depression and anxiety.
One of the biggest problems with sitting too much is that it is closely associated with an overall sedentary life, in and out of the office. Those who sat for eight hours per day with no physical activity were found to have an increased risk of mortality on par with smoking.
With teachers (and others) now working from home, the time spent sitting has likely seen a significant increase. This is where standing desks can help. While they aren't a cure-all, standing desks force you to stand more throughout the day. Standing has been studied for its potential to burn more calories and reduce the risk of pain in the back and shoulders. Among the many benefits of standing desks, they have also been found to help blood sugar levels return to normal following a meal.
The human body wasn't designed to stay in any single position for long periods of time. Standing allows you to change your position without necessarily resorting to slouching, hunching over, or other non-ergonomic positions common to sitting.
How to Use a Standing Desk
While standing desks can help to reduce the amount of time you spend sitting, improper use and bad ergonomics can make problems just as bad for your joints, muscles, and overall health.
Set the Right Height
Start by setting your desk height. Your standing desk should be at or slightly below your elbows, ensuring that you can comfortably bend your elbows at a 90-degree angle when you are typing. From there, set your screen distance and height. The exact distance can vary, but you generally want your monitor about an arms distance from your face. The top of your screen should be at eye level and tilted back 10 to 20 degrees. You essentially want to set your screen such that you don't have to tilt your head up or down. This might mean using a monitor stand to set your screen at the right height.
Remember Your Posture
At your standing workstation, your head, neck, spine, and legs should generally be in alignment. Avoid leaning to one side or hunching over.
Use an Anti-Fatigue Mat
Standing can put a lot of extra weight on your feet, ankles, and knees. Anti-fatigue mats offer a little extra cushioning and support to keep the pressure off your legs and prevent back pains. These mats also encourage small, subtle movements in your leg muscles to maintain comfort and blood flow throughout the day.
Alternate Between Sitting and Standing
As mentioned, the human body wasn't designed to stay in one position for long periods of time. If your schedule and teaching activities allow, try to alternate between sitting and standing. This allows you to get the most out of your standing desk without also tiring out your legs.
It's hard to say when medical experts will find a viable vaccine for COVID-19, but Mount-It! is trying to do its part to help local teachers maintain a positive and efficient workspace. Times are hard, but helping local communities can ease some of the hardships laid bare by the virus.
Sources:
---