Benefits of An Extra Long Arm TV Wall Mount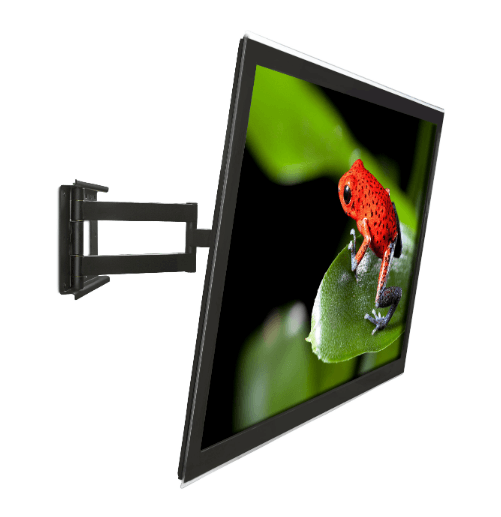 These days, a flat-screen TV can be found in practically every American household. What was once a luxury feature costing thousands of dollars is now an expected staple everyday item that can be purchased for cheap. While prices have gone down, quality has gone up in terms of clarity, color, size, and weight. 
Despite the fact that flat screens are lighter than ever, far too many TV owners make the mistake of leaving their screen on a stand or a table. Unfortunately, they fail to realize the numerous benefits that come with attaching a flat-screen to an extra-long arm TV wall mount. But you don't have to make the same mistake! Below, we'll discuss the myriad reasons why it's time to upgrade your TV viewing experience with an extra-long arm TV wall mount.   
Benefits of An Extra Long Arm TV Wall Mount
Most flat-screen TVs are purposefully created to be wall-mounted. They're designed according to the VESA standard, which is a group of standards, as defined by the Video Electronics Standards Association, for mounting televisions. 
Per the flat device mounting interface (FDMI):
The purpose of this standard is to define mounting interface standards for Flat Displays (FDs) such as flat panel monitors, flat displays and flat TVs. The standard is designed to meet the following objectives: Define a set of mounting interface standards for the complete range of FDs with viewing areas ranging in size from 102 mm (4") to 2286 mm (90") diagonal. 
According to the standards, modern televisions can be expected to have the following qualities that make them ideal for mounting:
Have strengthened weight-bearing frames that can withstand long-term use without damaging the screen. 
Come with premade holes on the back of the frame that can be used to attach to the various brackets and mounts.  
Allow for universality, regardless of the maker of the product, so long as you know the bracket's dimensions. 
As a result, it's never been easier to mount your television! But, if you find yourself on the fence, perhaps the following reasons to use an extra long arm TV wall mount might change your mind:
TVs are made for mounts – As mentioned, TVs are now built for the express purpose of mounting them to your wall. It's a no-brainer since they have all the bolts, slots, and framing required to turn your flat screen from a static device to one that is highly maneuverable. Better yet, you can mount your television on any surface. See our article on how to mount a TV on brick to see for yourself!
Create an optimal viewing experience

– In the past, to get the best viewing angle you'd have to make sure that both the couch and television were perfectly positioned. This meant the TV had to be low enough and/or the couch had to be far enough back to properly see the screen. Also, you'd likely have to situate everything directly in line with the screen.  
With a mount, this no longer matters because positioning your TV is now easy as can be.  You have far more freedom to put your TV or couch wherever you prefer and then simply tilt, rotate, or lower the screen to line up perfectly with your eyes. As a result, you can get an optimal viewing experience no matter where you feel like watching TV. 
Prevent injury to you and furniture

– Coinciding with the last point, if your flat screen is not mounted and you wish for a better viewing experience, you have to lift up the entire television and reposition it. This could result in back injuries and cause the frame to scratch the table or dresser it stands upon. On the other hand, moving a TV on a mount couldn't be smoother.
Make glares and sunlight a non-issue

– Few things can be more obnoxious than having natural or artificial light create a glare or reflection. Selecting an extra long arm TV mount that can be rotated from side to side and tilted up and down lets you move the screen to reduce glare. And, as the sun moves throughout the day, you can easily reposition it. 
Avoid neck and eye strain

– The majority of television stands tend to be lower to the ground. On the flip side, if you place the TV on top of something, it may cause it to be too high up, particularly if the couch rests close to the TV. Both of these things can cause eye or neck strain; however, a mount lets you move the screen so that you can watch comfortably without distraction. 
Watch TV from anywhere

– The TV used to exist solely within the domain of the family room or living room. Today, the flexibility of a mount means that you can watch from any of the adjoining rooms. Even if you're preparing dinner in the kitchen, having a drink outside, or eating in the dining room, you don't have to miss a second of the game. 
Save space

– A TV mount saves quite a bit of room in a home, which can be especially important if you're in an apartment or constrained space. By mounting the screen on the wall, you free up additional square footage that might otherwise be dedicated to the TV stand. In a bedroom or home office, that additional space could be the difference in being able to have a television or not.  
Make the room kid-friendly –

If you have kids, you're well aware that they can create quite the ruckus. Should your kids wrestle around the family room and bump into the TV stand, it could tip over and come crashing down on them. A mount keeps the valuable flat screen far, far away from their oblivious, rollicking selves.
Hide the TV

– Some people don't want the TV to be the focal point of the room. A mount can allow you to store the flat screen in the cabinetry, frames, or on the ceiling. This keeps the television out of sight and out of mind until it's time to sit down and enjoy some entertainment. 
They're cheap

– You don't have to spend a fortune to mount your television. Even the most high-tech mounts from Mount-IT! are under $200, with others as cheap as $25. And, frankly, what with all the benefits an extra long arm TV wall mount provides, it's a worthwhile investment. Seriously, if you mount one of your TVs, you'll likely decide to mount the other as well! 
Put it in awkward places – If you want to make use of a corner or hang the TV up high, you can. Traditional stands don't provide nearly the same convenience, whereas mounts give you the power to decide where the screen should go. Learn how to mount a TV from the ceiling with our helpful guide.
Improve the room's aesthetics

– Should you wish to give your room a modern, sleek ambiance and avoid clutter, a TV wall mount can optimize the aesthetic. For example,

check out Design Milk

to visualize how clean the TV mount appears in a contemporary living room. There are no wires, no cords, just a beautiful television.  
Mounts are easy to install

– While it may seem daunting to install a mount, even the least handy person in the world could likely get the work done in less than an hour's time. There's no need to hire a contractor or a specialist, nor do you need an entire toolbox. 
Typically, you'll require:
A screwdriver

A drill

A ladder (if you're ceiling mounting)

A friend to assist
Turn any part of the house into a theater

– If you want to watch TV from your bathtub, jacuzzi, bar, or fireplace, a TV stand simply won't work. This is particularly true if you want to have it outside. With a mount, you can transform any place in your house, both inside and out, into a home theater. Figure out all the mounting possibilities with our

5 Creative Ways to Use Your Articulating TV Wall Mount With A Long Arm.
Mounting Your Television
These are but a few of the various benefits that come from an extra long arm tv wall mount. At the end of the day, most can be boiled down to convenience and a better TV viewing experience. 
So, what are you waiting for? Mount-IT! has a wide assortment of TV mounts to choose from. After perusing their selection, you'll be sure to find the perfect flat screen mount for you. 
Sources:
VESA. VESA Flat Display Mounting Interface (FDMI) Overview. http://www.vesa.org/wp-content/uploads/2010/12/FDMI-Overview.pdf
Design Milk. 10 Modern Rooms Thoughtfully Designed with the TV in Mind. https://design-milk.com/modern-rooms-thoughtfully-designed-with-the-tv-in-mind/
Sebring. 25 TV Wall Mount Ideas for Your Viewing Pleasure
https://sebringdesignbuild.com/wall-mounted-tv-ideas-for-your-viewing-pleasure/
---