Mounting a TV In a Corner Wall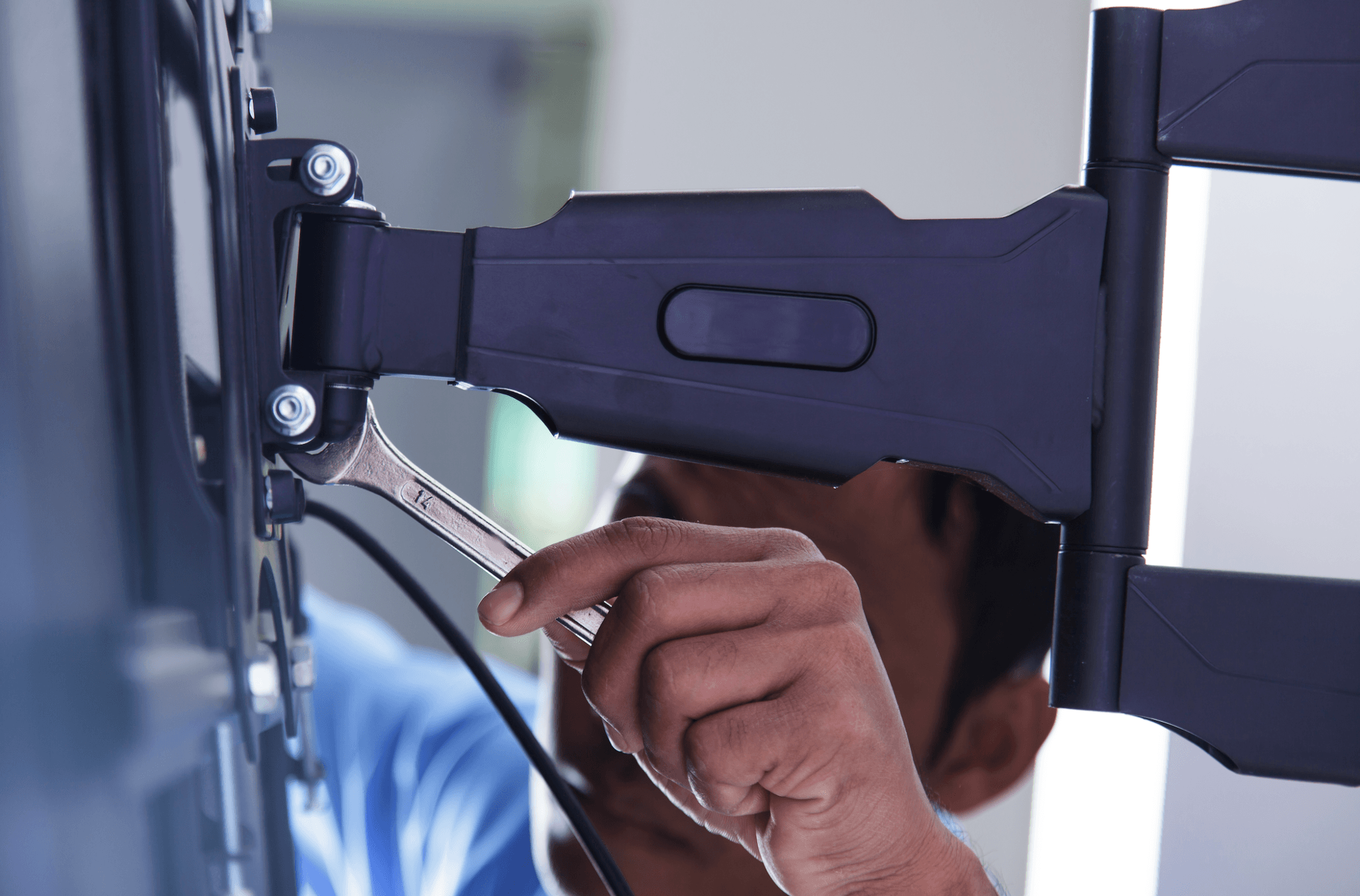 Have you recently moved or gotten the urge to rearrange your home? Maybe you thought that mounting your TV in a corner would be the perfect way to make use of your new space. However, choosing this location may raise a number of questions. How will you attach it to the wall? Will it be sturdy enough to weather any accidental bumps or seismic activity that can occur? Will it enhance the overall look of the room or detract from it? If you've found yourself asking these questions when considering where to place your TV, you're not alone. 
Corner TV Mounts
While the TV is one of the most utilized electronics in many homes, many people would prefer that it be discreetly placed so that it is not a focal point in the room. Mounting a TV on a corner wall of the room allows it to be readily available for comfortable viewing, without it feeling like the centerpiece. If you want to learn how to mount a TV in a corner, look no further. Our step-by-step guide will teach you everything you need to know about TV wall mounts and how to install one in a corner in your living room.
How To Mount a TV In a Corner?
Setting up your television in a corner can help maximize your space and ensure optimal viewing for your particular seating arrangements. To make sure you like the appearance of a TV mounted in a corner, it can be helpful to look up "mounting TV in corner ideas" to find a good setup. Once you have a better idea after doing your research, the next step is to learn how to do the mounting process. Below is a step-by-step guide on how to corner mount a TV in your home. 
1. Research Your TV's Dimensions and Weight
Whether you want to purchase a new flat screen or are looking to mount an existing TV you already own, it's important to make sure you have it's specific measurements so you can buy the right mounting hardware. The last thing you want is to find out that your TV has been paired with an incorrect TV mount that is not rated to hold it. Thankfully, preventing this problem is easy! All you need to do is determine the dimensions and weight of your television and then choose the right corner TV bracket to support it. If you are looking to corner mount a flat-screen TV that weighs more than 125 pounds, you will want to opt for a TV mount with a dual-arm bracket. For flat-screen TVs that weigh less than 125 pounds, wall mounting using a single-arm bracket is an optimal solution.
2.

Find One Of The Best Corner TV Mounts
Once you have verified the dimensions and weight of your TV, you can begin your search for the perfect corner TV mount. If you already have a corner TV mount that is compatible with your screen, you can skip to the next step. We recommend searching for reviews of various corner TV mounts that are filtered to align with the specifications for your TV. Different corner TV mounts offer various benefits and features. Important considerations to keep in mind when you are in the selection process is what angle you ideally want your TV to be in. It's also important to note that some varieties can be pushed in when not in use2 . Researching at this stage allows you to narrow down what features are must-haves for your preferences and space. If you're interested in a corner-mounted TV that can extend away from the wall and tilt to diminish glare, our Mount-It Articulating Full Motion TV Wall Mount Bracket may be your perfect fit. Our Mount-It Articulating TV Wall Mount Corner Bracket is another corner mount that may fit your needs. It has a continuous tilt feature that allows you to adjust for glare and neck comfort, as well as a cable arrangement feature that keeps your mounted TV looking clean and professional . 
3.

Attach The Corner Mount To The TV
Once you have your TV and TV mount ready, you can start the mounting process. To begin, you will want to read through the instructions that came with your TV. There should be specific directions on how to use mounting hardware with your television. Many flat-screen TVs will have four points on their back that you can attach the TV mounting system to. You may need to remove four bolts or screws that will attach the wall mounting bracket to the TV. 
4.

Find Studs To Attach The Corner TV Mount
If you've ever heard a horror story of someone mounting their TV to the wall and it not being secure, chances are that they skipped this vital step in the TV mounting process. One of the most important steps is finding studs that your TV mount can attach into. Studs are typically sixteen inches apart, but this is not always the case, so don't assume that you can simply measure off the corner and find studs. Instead, you will need to validate that you have located studs before you try to mount your TV corner mount. Once you have located where the studs are, make a pencil mark on the wall over each single stud. 
5.

Mark The Desired Height For The Corner TV Wall Mount
Once you have determined your stud locations, the next step is to measure out the desired height for mounting your TV. Be sure to consider your ideal viewing height before you take out the drill. The easiest time to adjust the height of your TV mount is before you start making holes, so be sure you are completely happy with your height and location. Once you have settled on the desired height, use a tape measure and a pencil to mark on the wall where you will want the mounting bracket to be drilled and connected to studs .
6.

Drill Holes For Mounting Brackets & Attach To Corner Wall
Time to start drilling! During this step, it is vital to make sure that you are drilling into the studs and that you are using a wall level to make sure that the mounting bracket is even as you attach it. Some TV mounting brackets even have levels built in to help with this.  Using wall bolts, attach the mounting bracket to the wall and verify that it is level once attached . 
7. Mount the TV to the Wall Bracket and Secure It
Once your mounting bracket is securely attached to the studs on the wall, you are ready to Mount the TV. To do this, we recommend detaching the mounting brackets from the mount since you will need to securely attach your TV using bolts. To do this lay your TV flat and screw on the bracket. Once the bracket is attached to the TV, you then attached both the bracket and the TV back to the mount on the wall. 
8.

Adjust The Mounted TV In The Corner Wall
With your TV securely mounted in the corner, all that is left to do is to adjust the angle and mounting arm as needed so it is positioned perfectly for comfortable viewing. From there, you are ready to enjoy your new corner-mounted TV!
Whether you choose to mount your TV above the fireplace, in the corner, or completely on its own, what is most important is that it is comfortable for you to watch. Take your time to find the perfect spot. Once you've decided on a wall mount or a TV stand, you'll be able to create an optimal setup for your living room or bedroom. 
Sources:
1. https://www.techwalla.com/articles/how-to-mount-a-tv-in-the-corner-of-a-room
2. https://www.av-express.com/how-to-corner-mount-tv
3.  https://gadgetsliving.com/corner-tv-mounts/
4. https://www.techwalla.com/articles/how-to-mount-a-tv-in-the-corner-of-a-room
5. https://www.techwalla.com/articles/how-to-mount-a-tv-in-the-corner-of-a-room
6. https://www.techwalla.com/articles/how-to-mount-a-tv-in-the-corner-of-a-room
7. https://www.techwalla.com/articles/how-to-mount-a-tv-in-the-corner-of-a-room
---